MARTHANNE VERBIT

Marthanne Verbit's penchant for off-beat repertoire has made
her a favorite among piano buffs and the musically curious since
her first recording of Cyril Scott and her enthusiastically received New York and London all-Scriabin debut recitals.

This inquisitive virtuoso has charted her own course, rescuing unjustly neglected works in piano literature and commissioning new music. Imaginative programs earned Marthanne plaudits from critics and a reputation as a stylish interpreter with flair, insight, passion and technique. She has performed works by a gallery of late 19th century and 20th century composers such as Szymanowski, Ornstein and Antheil at such distinguished venues as Alice Tully Hall, Carnegie Recital Hall, Merkin Hall and Avery Fisher Hall in New York City where she was invited to play a solo recital for the Gershwin centenary.
In Washington, D.C., Marthanne has been a guest on the concert series at the Smithsonian Baird Theater, the Library of Congress, and the National Gallery of Art. She has played recitals in major European cities and on numerous occasions at Wigmore Hall in London.
Marthanne has collaborated with musicians from the Yale School of Music, Juilliard, New England Conservatory of Music and New York University among others on solo and chamber music programs, many of which were broadcast on educational radio and television.

As an entertaining antidote to her recitals of off-beat repertoire, Marthanne asked the composer Joseph Fennimore to write her a music-theatre piece for one person and a piano. The result, KEEPING TIME -- two acts of assorted characters and a piano all played by a lady as old and as fabulous as the music she plays -- features familiar virtuoso music (Rossini, Liszt, Satie, Gershwin) interspersed with reminiscences of an ageless woman. From 1990-1995 Marthanne toured variations of this work nationally and played a short run off-off Broadway. She revives KEEPING TIME when the spirit moves her.

Among her recordings, her Antheil disc on ALBANY RECORDS, Bad Boy of Music, was selected as a Critics' Choice by Gramaphone. For G. Schirmer she edited the first published collection of Antheil's piano works. Her most recent recording, Endangered, includes major new works by Joseph Fennimore and John Kennedy as well as pieces by Peter Lieberson, Hilary Tann and Steve Heitzeg.

A native of Georgia, Ms. Verbit studied at Hollins University in
Virginia, the Eastman School of Music and Boston University. Her teachers include Anne Krauss, Armand Basile, Bela Nagy and Martin Canin.

Marthanne now makes her home in Santa Fe, New Mexico.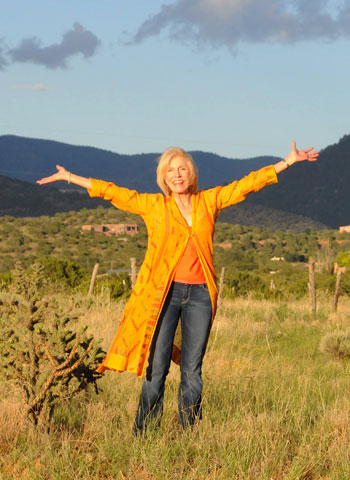 photo credit: Joan Brooks Baker
---