RECITAL REVIEWS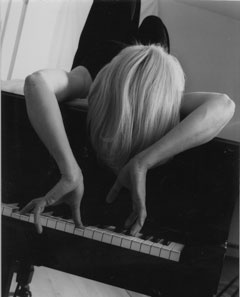 "Verbit performed with dramatic flair and conviction; she's a musical rejuvenator, dusting the cobwebs from fascinating items in the musical curiosity shop...George Antheil's La Femme 100 Tetes, Louis Moreau Gottchalk's The Union and my favorite composer of the week, Leo Ornstein's Fourth Sonata.
No less remarkable was her reading of Shostakovich's Second Sonata, which is not a neglected work, but one that is often misunderstood. She brought a sense of balance to the slow movement--no easy task--and expressive cohesion to the concluding theme and variations.
The wit and poetry of An Old Soft Shoe by Joseph Fennimore (born 1940)....a British premiere, this touching picture of old time dancing is a gift to pianists...Written by a virtuoso, it wove melodies of infinite charm through intricate left and right accompaniments that sounded great fun to play once you got your fingers round them. -- THE INDEPENDENT, Wigmore Hall, London, 1996
"A high-intensity performance that swept the listener along... an illuminating evening." THE NEW YORK TIMES

"Verbit is a pianist of the first order. Something more - a willingness to take risks, flaunt convention - is just as important as concert-level technique in this business." --SAN FRANCISCO CHRONICLE
"When Marthanne Verbit plays there are no compromises. This extraordinary musician gave her audience an exciting mixture because she pulled off these contrasting pieces in a most perceptive manner." -- WESTDEUTSCHE ALLGEMEINE, DORTMUND, GERMANY
"Formidable technique, a flair for the extroverted and a considerable amount of power...." -- THE WASHINGTON POST
"[Marthanne Verbit's] sensational recital was as imaginatively assembled as a John McCormack program of Irish ballads. Yet her playing had the heat and smoke of a Rich Gossage fastball."-- NEW YORK POST
" ...for the closing of its second season, Santa Fe New Music...featured pianist Marthanne Verbit. Her program, aptly titled Off the Beaten Path, had solid musical benefits. Focused on piano literature of early 20th century American and Russian composers, it introduced music that many may not have known. The music was delivered with the conviction and ease of familiarity, as if she were introducing old friends. (Her) gracious manner and occasional remarks added to the feeling of an intimate artistic gathering. The results were a thoroughly engaging performance." -- THE ALBUQUERQUE JOURNAL, Review of Santa Fe recital, 2003
"By the end of an extraordinary evening, I knew that I wanted to hear her in concert at every opportunity. She came on stage, a classy lassie with a gorgeous chassis...and then she sat down at the grand piano without any of the theatrics one sees in many other artists. The packed auditorium of adoring fans were treated to an evening of sublime entertainment with an underlying feeling that we had received an education in what 20th century composers have to offer---and that Marthanne Verbit was the designated, virtuoso messenger." -- THE NEW MEXICAN (letter to the Opinion section, June 2003)

DISC REVIEWS




Antheil: Bad Boy of Music, Albany Records (TROY 146)
"This is an important release... Verbit provides precisely the paradoxical combination of commitment and abandon that this music requires." FANFARE
"[Marthanne Verbit] is overwhelmingly convincing, relishing Antheil's quixotic style-modulations. This CD is excellently presented." -- GRAMOPHONE
"There is no doubt that Marthanne Verbit plays Antheil's music with total commitment and the recording achieves an impressive richness and immediacy." -- BBC MUSIC MAGAZINE



Endangered: Mathanne Verbit, Piano, Albany Records (TROY 1051)
Five American works for piano on environmental themes.
"...Pictorial accuracy and admirable political activism notwithstanding, a recording must rise or fall on the merits of the music and its realization. Verbit deserves high kudos for assembling five strong pieces and presenting them with feeling and authority. If the concept inspires action by listeners, so much the better... " -- FANFARE MAGAZINE, Michael Cameron, February 23, 2009
"...To my ear, the selections comprise a whole that is remarkably complete and satisfying. A tension runs through Endangered. Perhaps it accounts for the disk's unity. The pieces are suffused with delight for the phenomena that inspire them...but mixed with the awe is a sense of loss and vulnerability, an awareness that the most exquisite and fragile details of creation are being fractured, evaporated, ground to dust..." -- WILLIAM DeBUYS, eminent environmentalist.